The right running shoe is as important as the left.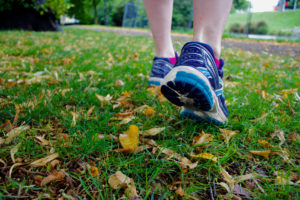 Your left foot is different to your right, like all people a little or a lot different compared to each other. Not all of us are runners, but everyone needs a running shoe.
A well chosen running shoe is good for your feet. The modern running shoe gives all people on their feet optimal functional footwear options, for comfort, fit, and for your body to maintain good movement posture.
How do you decide?
Understand the shape of your feet

Function

Do you have bumps to consider?

Do you have vulnerable skin?

Soggy

Blisters

Infections

Function – e.g. Pronation: a degree of it is essential for a well functioning body, but too much can overstress a foot. The question is, how much is too much? What is the best postural position for your foot to function in?

Rear/Misfoot/Forefoot -> Midline of foot
What can Podiatrists do?
We can help provide advice and recommendations whether you are purchasing footwear or want to improve your performance. Book in an appointment with one of our Podiatrists now and ask about the right running shoe for you, we can provide you with footwear advice and prescriptions.